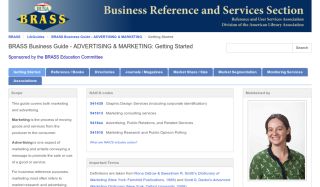 Advertising and Marketing BRASS Business Guide
http://brass.libguides.com/AdMarketingResources
This guide by Desirae Zingarelli-Sweet of the Business Reference and Services Section, Reference and User Services Association Division of the American Library Association covers both marketing and advertising. Marketing is the process of moving goods and services from the producer to the consumer. Advertising is one aspect of marketing and entails conveying a message to promote the sale or use of a good or service. For business reference purposes, marketing most often refers to market research and advertising. Other topics that commonly fall under marketing include: a) Market research; b) Market segmentation; c) Media planning; d) Public relations; e) Product pricing; f) Distribution; g) Customer support; h) Sales strategy, and i) Community involvement. This will be added to Reference Resources Subject Tracer™. This will be added to Entrepreneurial Resources Subject Tracer™. This will be added to the tools section of Research Resources Subject Tracer™ Information Blog. This will be added to eMarketing MiniGuide 2015. This will be added to Start Up Resources for the Entrepreneur.