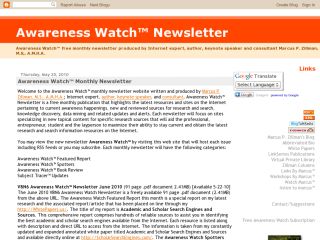 Awareness Watch Newsletter Free Subscription Link
http://www.AwarenessWatch.com/
The Awareness Watch™ monthly newsletter is written and produced by Marcus P. Zillman, M.S., A.M.H.A.  . Awareness Watch™ Newsletter is a free monthly publication that highlights the latest resources and sites on the Internet pertaining to current awareness happenings, new and reviewed sources for research and search, knowledge discovery, data mining and related updates and alerts. Each newsletter will focus on sites specializing in new topical content  for specific research sources that will aid the professional, entrepreneur, student and the layperson to maximize their ability to stay current and obtain the latest research and search information resources on the Internet. You may view the new newsletter Awareness Watch™ by visiting this web site that will host each issue including RSS feeds or you may subscribe. Each monthly newsletter will have the following categories: a) Awareness Watch™ Featured Report; b) Awareness Watch™ Spotters; c) Awareness Watch™ Book Review; and d) Subject Tracer™ Updates. My Awareness Watch Newsletter is in its 11th year and I have automated the free subscription sign up and is available by clicking here. Feel free to spread the word to your friends and associates!!