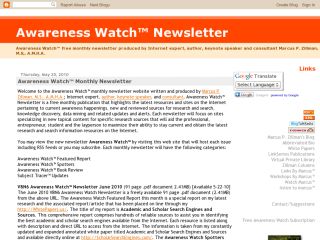 Awareness Watch Newsletter V11N12 December 2013
http://AwarenessWatch.VirtualPrivateLibrary.net/V11N12.pdf
Awareness Watch™ Newsletter Blog and Archives
http://www.AwarenessWatch.com/
The December 2013 V11N12 Awareness Watch Newsletter is a freely available 56 page .pdf document (412KB) from the above URL. This month's featured report covers Privacy Resources and Alerts 2014. In todays New Economy we must constantly be diligent in observing the latest privacy resources as well as the appropriate alerts to keep us current in all the various facets of our life including business, academic and special interests. This list of sources is taken from my Subject Tracer™ Information Blogs titled Privacy Rersources and Internet Alerts and are constantly updated with Subject Tracer™ Information Bots (STIB) at the following URLs: http://www.PrivacyResources.info/ and http://www.InternetAlerts.info/. These resources and sources will help you to discover the many existing and new pathways available to you through the Internet to find the latest privacy and alert resources, sources and sites. In today's New Economy it has become one of the most important areas that we must constantly monitor and implement! The Awareness Watch Spotters cover many excellent and newly released annotated current awareness research sources and tools as well as the latest identified Internet happenings and resources including a number of neat and must-have tools! The Awareness Watch Article Review covers 3D Printing Community and Emerging Practices of Peer Production by by Jarkko Moilanen and Tere Vadén.