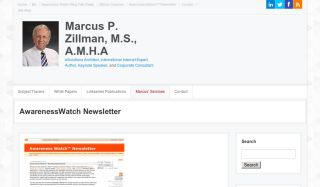 Awareness Watch Newsletter V13N3 March 2015
http://AwarenessWatch.VirtualPrivateLibrary.net/V13N3.pdf
Awareness Watch™ Newsletter Blog and Archives
http://www.AwarenessWatch.com/
The March 2015 V13N3 Awareness Watch Newsletter is a freely available 95 page .pdf document (662KB) from the above URL. This month's featured report covers Academic and Scholar Search Engines and Sources and is a comprehensive listing of academic and scholar search engines, sources and sites on the Internet. As more and more of the Internet global population is utilizing these academic and scholar resources that are available from the Internet, this V13N3 Awareness Watch Newsletter brings you many of these relevant sources for your virtual private library on your desk top, laptop, tablet or smartphone. Now your academic and scholar search engine information needs are just a click or tap away! The site is always updated and is available at the following URLs: http://www.ScholarSearchEngines.com/. The Awareness Watch Spotters cover many excellent and newly released annotated current awareness research sources and tools as well as the latest identified Internet happenings and resources including a number of neat and must-have tools! The Awareness Watch Article Review covers Ad Hoc Encounters With Big Data: Engaging Citizens in Conversations Around Tabletops by Morten Fjeld, Paweł Woźniak, Josh Cowls, and Bonnie Nardi.
Subscribe to the monthly free Awareness Watch Newsletter by clicking here.