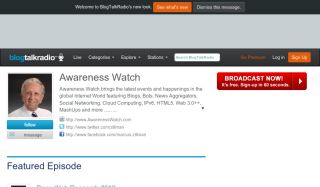 Awareness Watch Talk Show for Saturday March 30, 2013 at 2:00pm EDST
http://www.BlogTalkRadio.com/AwarenessWatch/

This show will feature my Subject Tracer Internet Demographics and available from the Virtual Private Library. These are resources on the demographics of the Internet as well as some excellent demographic resources in general. Demographics have become key areas of interest in the results analysis of  analytics and guide us in the appropriate direction to create well balanced and productive marketing. We will also be reviewing the latest happenings from my blog during the last week.  We will be also discussing my latest freely available Awareness Watch Newsletter V11N3 March 2013 featuring Online Research Browsers and Web Data Extractors as well as my freely available March 2013  Zillman Column  covering Theology Online Resources. You may call in to ask your questions at (718)508-9839. The show is live and thirty minutes in length starting at 2:00pm EDST on Saturday, March 30, 2013 and then archived for easy review and access. Listen, Call and Enjoy!!