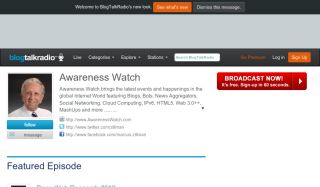 Awareness Watch Talk Show for Saturday August 9, 2014 at 2:00pm EDT – Internet Hoaxes
http://www.BlogTalkRadio.com/AwarenessWatch/
This show will highlight my Subject Tracer titled Internet Hoaxes and available directly from the Virtual Private Library. Internet Hoaxes is designed to educate you about the latest happenings in all areas of Anti-Virus, AntiHoax, AntiMyth, AntiFraud, AntiChain Letter and Anti-Spam occurring on the Internet. It brings together in one page the many resources and sites that can educate you about the current happenings in the areas of anti-virus, anti-hoax, anti-myth, anti-fraud, anti-chain letter and anti-spam. We will also be reviewing the latest happenings from my blog during the last week. We will also discussing my latest freely available Awareness Watch Newsletter V12N8 August 2014 and my freely available August 2014 Zillman Column. You may call in to ask your questions at (718)508-9839. The show is live and thirty minutes in length starting at 2:00pm EST on Saturday, August 9, 2014 and then archived for easy review and access. Listen, Call and Enjoy!!