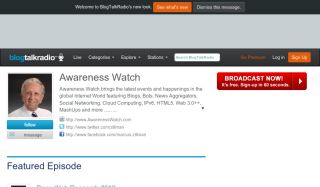 Awareness Watch Talk Show for Saturday October 12, 2013 at 2:00pm EDST
http://www.BlogTalkRadio.com/AwarenessWatch/
This program will highlight my Subject Tracer titled Astronomy Resources. These resources include astronomy resources in general, astrophysics, bioastronomy, radio astronomy and roboscopes. Learn where you can rent a telescope from all over the world and take pictures of various astronomical objects located throughout the universe!!! We will also be reviewing the latest happenings from my blog during the last week. We will be also discussing my latest freely available Awareness Watch Newsletter V11N10 October 2013 featuring Green Resources as well as my freely available October 2013 Zillman Column titled Artificial Intelligence Resources. You may call in to ask your questions at (718)508-9839. The show is live and thirty minutes in length starting at 2:00pm EDST on Saturday, October 12, 2013 and then archived for easy review and access. Listen, Call and Enjoy!!