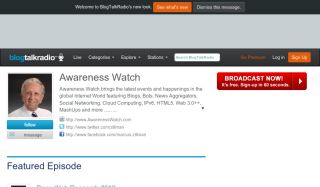 Awareness Watch Talk Show for Wednesday October 4, 2017 at 2:00pm EDST – Statistics Resources and Big Data 2018
http://www.BlogTalkRadio.com/AwarenessWatch/
This program will be featuring my white paper Statistics Resources and Big Data 2018. We will be highlighting the latest and greatest resources and sources covering search engines, subject directories, articles, guides and tracers….literally everything on the Internet covering STATISTICS RESOURCES AND BIG DATA!! We will also discussing my latest freely available Awareness Watch Newsletter V15N10 October 2017 featuring 2018 Directory of Directories as well as my freely available October 2017 Zillman Columns highlighting Statistics Resources and Big Data 2018. You may call in to ask your questions at (718)508-9839. The show is live and thirty minutes in length starting at 2:00pm EDST on Wednesday, October 4, 2017 and then archived for easy review and access. Listen, Call and Enjoy….