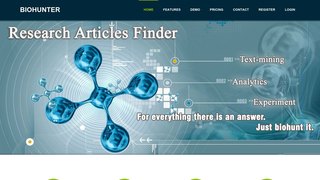 BioHunter _ Research Articles Finder
https://www.biohunter.in/
Biomedical sciences have become data intensive field and the amounts of data generated are increasing rapidly every year. This wealth of scholarly knowledge is of significant importance for researchers in making new scientific discoveries. Though several existing web tools available to help users quickly retrieve research articles, these systems lack three major areas such as, 'Relevancy, 'Result analytics' and 'Interface and usability' for better search. In order to sort these issues, BIOHUNTER uses advanced text mining approach for highly relevant literature extraction, automated data analytics and displaying data graphically in an effective manner. Biohunter alleviates the need for the user to wade through numerous irrelevant articles to arrive at the articles of genuine interest. It also enables a quick finding of the related literature thereby saving time for the user. The tool performs a high quality data analytics prior to presenting the relevant results. Biohunter can thus empower research and enable better translation of discoveries into new advances that benefit society. This will be added to Biological Informatics Subject Tracer™. This way, you can browse through topics easily and find related contents by concept. This will be added to Business Intelligence Resources Subject Tracer™. This will be added to Entrepreneurial Resources Subject Tracer™. This will be added to the tools section of Research Resources Subject Tracer™.