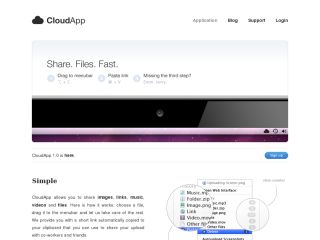 CloudApp – Share Files Fast
http://www.getcloudapp.com/
CloudApp allows you to share images, links, music, videos and files. Here is how it works: choose a file, drag it to the menubar and let us take care of the rest. We provide you with a short link automatically copied to your clipboard that you can use to share your upload with co-workers and friends. Additionally you can view, track and delete files right from your menubar. Drag and drop files directly from Finder, define a hotkey to trigger an upload of a file or screenshot and print to CloudApp from any application on your Mac. CloudApp allows you to share, access and organize your uploads from anywhere in the world through an intuitive web interface.
You can upload images on the go with our image uploader for the iPhone available soon on the iTunes App Store. If that's not enough, use the same API our apps use to view and manage your uploads. CloudApp is powered by Heroku and Amazon's Simple Storage Service. Files are redundantly stored on multiple devices across multiple storage facilities preventing data corruption and loss. You can sleep well at night knowing your files are safe. CloudApp ships with a range of plugins called Raindrops allowing you to extend functionality to your favorite applications for the Mac. Download Raindrops for iPhoto, iTunes, Photoshop and many more. Third-party developers can use the same technologies used by CloudApp's built-in functionality for their own applications. This has been added to the tools section of Research Resources Subject Tracer™ Information Blog. This has been added to Grid, Distributed and Cloud Computing Resources Subject Tracer™ Information Blog.