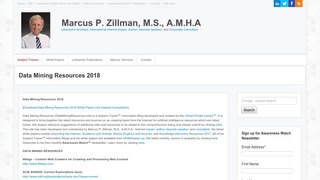 Data Mining Resources 2018 Whitepaper Dataset Link Compilation
http://www.DataMiningResources.info/
I have just updated my Data Mining Resources 2018 Subject Tracer™ Whitepaper Dataset Link Compilation and it is now a 33 page (286KB) .pdf white paper document is available from the above URL link. It lists alphabetically the latest resources and sources for data mining available from the Internet.[Completely updated with all links validated and new URLs added on October 5, 2017] Additional white papers and resources by Marcus P. Zillman are available by clicking here.