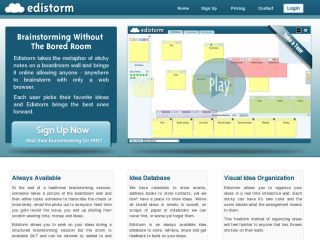 Edistorm – Brainstorming Without the Bored Room
http://www.edistorm.com/
At the end of a traditional brainstorming session, someone takes a picture of the boardroom wall and then either tasks someone to transcribe the chaos or more likely, email the photo out to everyone. Next time you goto revisit the issue, you end up starting from scratch wasting time, money and ideas. Edistorm allows you to work on your ideas during a structured brainstorming session but the storm is available 24/7 and can be referred to, added to and revised on an ongoing basis. We have calendars to store events, address books to store contacts, yet we don't have a place to store ideas. We've all stored ideas in emails to ourself, on scraps of paper or notebooks we can never find, or worse yet forgot them. Edistorm is an always available idea database to store, retrieve, share and get feedback to build on your ideas. Edistorm allows you to organize your ideas in a real time interactive wall. Each sticky can have it's own color and the users decide what the arrangement means to them. This freeform method of organizing ideas will feel familiar to anyone that has thrown stickies on their walls. Research has proven that groups of users can make better decisions than a single user. Because your not limited by the size of your boardroom or the ability to facilitate brainstorming with a group larger than a dozen, you can engage your entire organization in coming up with better ideas. Each employee can add ideas, vote on the ones they like and make comments on specific ideas to help refine or improve them. Edistorm is always free for anyone adding ideas to a brainstorming. Feel free to invite anyone you'd like. Creating public or solo brainstorms is free, while creating private invite only storms requires a subscription. Even if you're brainstorming by yourself, you're never on your own. Edistorm created Idea Bots that brainstorm with you providing you suggested ideas. Edistorm has a variety of bots including, thesaurus, rhyming, related words and a social media bot. We're open to suggestions for future bots. The name Edistorm is a mashup of Edison and Brainstorm and is inspired by Thomas Edison's idea factories. Edistorm is a privately held company based in Edmonton, Alberta, Canada. This has been added to Research Resources Subject Tracer™ Information Blog. This has been added to Entreprenurial Resources Subject Tracer™ Information Blog.