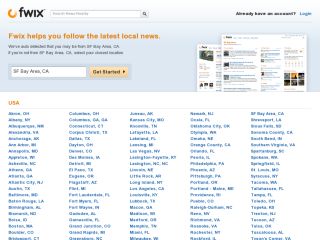 Fwix – Local News and Tools
http://www.fwix.com/
Fwix is a local news site designed to show you the most recent and relevant information in your area. Their mission is to provide people with the best possible news and the tools necessary to spread this news to the people they care about. Fwix's technology is designed to filter and select news stories that are locally relevant. To accomplish this task, they use a wide array of technologies. Their goal is to develop software that enhances user experience by finding high quality local content. For their data processing, they decided to use the disco project which allows them to quickly process log files, data, and other useful information to present relevant content. Most of their filters are proprietary and written in a myriad of languages. Python is the basis for most of their technology, but there is some Erlang and C in the mix that makes it all happen. This has been added to the tools section of Research Resources Subject Tracer™ Information Blog. This has been added to Reference Resources Subject Tracer™ Information Blog.