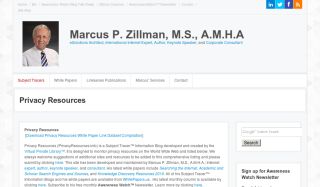 Guide To Privacy Resources 2017
http://WhitePapers.VirtualPrivateLibrary.net/Guide_To_Privacy_Resources_2017.pdf
This freely available publication titled Guide To Privacy Resources 2017 by Marcus P. Zillman, M.S., A.M.H.A.; Executive Director of the Virtual Private Library is a 46 page .pdf document 348KB. This guide is one of the most comprehensive listing of privacy resources currently available on the Internet. These include associations, indexes, search engines as well as individual websites and sources that supply the latest technology and information about privacy and how it relates to you and the Internet. This is a MUST reference guide for today's New Economy where privacy and security have become major issues!! Keep your privacy and security with this excellent freely available guide. Created on September 10, 2016. .
Direct URL: http://www.StealthMode.info/

© 2016 Marcus P. Zillman, M.S., A.M.H.A.