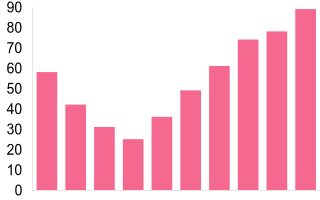 Imagecharts – Simple As An URL
https://www.image-charts.com/
Features include: a) Easiest way to embed charts in email or bot – No need to spend hours to setup and develop a complex server-side solution. We spent days tuning our chart generation backend so you don't have to. One url = one chart; 2) Gifs in email = awesome – Delightful effect guaranteed, communicate better with animated charts in your reporting emails. No more server-side gif rendering, headless browser tricks and painful email attachements. They do the hard work. You get the benefits; 3) Google Image Charts Drop-In replacement –  Google Image Charts is deprecated since 2012, not supported since 2015 and can be shutdown anytime soon. Image-charts aims to be fully compatible with Google Charts API while still extending it. Don't build on unstable foundation; and 4) Reliable and blazing fast – Making chart generation fast at scale is hard. <500ms everywhere around the world, 99,99% uptime over the past 3 months. This will be added to World Wide Web Reference Subject Tracer™. This will be added to Business Intelligence Resources Subject Tracer™. This will be added to Entrepreneurial Resources Subject Tracer™. This will be added to the tools section of Research Resources Subject Tracer™.