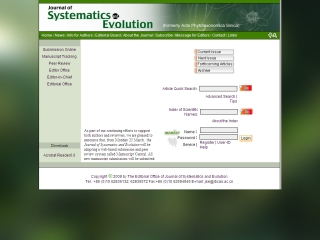 Journal of Systematics and Evolution (JSE)
http://www.plantsystematics.com/index_en.asp
Journal of Systematics and Evolution (JSE, since 2008; formerly Acta Phytotaxonomica Sinica ) is a plant-based international journal newly dedicated to the description and understanding of the biological diversity. It covers: description of new taxa, monographic revision, phylogenetics, molecular evolution and genome evolution, evolutionary developmental biology, evolutionary ecology, population biology, conservation biology, biogeography, paleobiology, evolutionary theories, and related subjects. JSE publishes 1) original research articles, 2) invited and contributed reviews, and 3)notes. Original research articles describe the results of substantial research. Review articles present a fair and balanced review of timely and significant topics in systematics and evolution. All manuscripts submitted from 1 June 2008 should be in English.