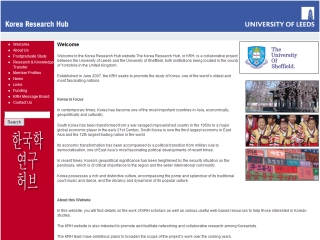 Korea Research Hub (KRH)
http://www.leeds.ac.uk/krh/index.htm
The Korea Research Hub, or KRH, is a collaborative project between the University of Leeds and the University of Sheffield, both institutions being located in the county of Yorkshire in the United Kingdom. Established in June 2007, the KRH seeks to promote the study of Korea, one of the world's oldest and most fascinating nations. In this website, you will find details on the work of KRH scholars as well as various useful web-based resources to help those interested in Korean studies. The KRH website is also intended to promote and facilitate networking and collaborative research among Koreanists. The KRH team have ambitious plans to broaden the scope of the project's work over the coming years. This has been added to Research Resources Subject Tracer™ Information Blog.