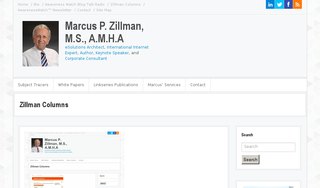 March 2016 Zillman Column – Internet Demographics Resources 2016
http://columns.virtualprivatelibrary.net/Internet_Demographics_Res_Mar16_Column.pdf
http://www.zillmancolumns.com/
The March 2016 Zillman Column features Internet Demographics Resources 2016 by Marcus P. Zillman, M.S., A.M.H.A.; Executive Director of the Virtual Private Library. This column is an extremely comprehensive listing of selected competency based internet demographics resources, directories, tutorial subject guides and index resources and sites available on the Internet. Download this excellent freely available 15 page 180KB pdf column today. This is another MUST have column to discover internet demographics resources in today's ever changing New Economy world!!