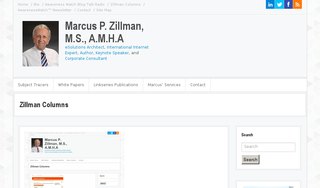 May 2016 Zillman Column – ChatterBots Resources On the Internet 2016
http://columns.virtualprivatelibrary.net/ChatterBots_Res_2016_May16_Column.pdf
http://www.zillmancolumns.com/
The May 2016 Zillman Column features ChatterBots Resources On the Internet 2016 by Marcus P. Zillman, M.S., A.M.H.A.; Executive Director of the Virtual Private Library. This is a comprehensive listing of Chatterbots directories, subject guides and index resources and sites available on the Internet Download this excellent freely available 17 page 195KB pdf column today. This is another MUST have column to discover ChatterBots resources in today's ever changing New Economy world!! ChatterBots are beginning to happen NOW and will affect every aspect of our lives both online and offline!! Understanding and education is the key for positive acceptance of what will be more powerful than Facebook and change the Internet forever!