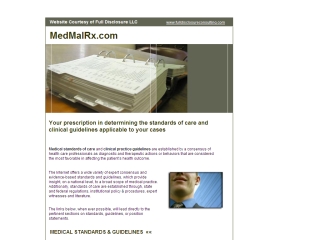 MedMalRx.com – Medical Standards of Care and Clinical Practice Guidelines
http://www.medmalrx.com/
Your prescription in determining the standards of care and clinical guidelines applicable to cases. Medical standards of care and clinical practice guidelines are established by a consensus of health care professionals as diagnostic and therapeutic actions or behaviors that are considered the most favorable in affecting the patient's health outcome. The Internet offers a wide variety of expert consensus and evidence-based standards and guidelines, which provide insight, on a national level, to a broad scope of medical practice. Additionally, standards of care are established through, state and federal regulations, institutional policy & procedures, expert witnesses and literature. These links, when ever possible, will lead directly to the pertinent sections on standards, guidelines, or position statements. This has been added to Healthcare Resources Subject Tracer™ Information Blog.