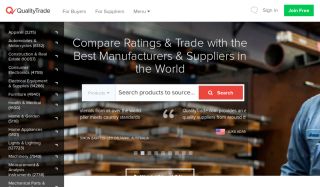 QualityTrade.com – Compare Ratings and Trade With the Best Manufacturers and Suppliers in the World
https://www.qualitytrade.com/
QualityTrade is an online B2B marketplace that connects wholesalers to buyers. The trading platform uses a merit-based ranking system that allows buyers efficiently and quickly to source the best products from around the world for import and export. QualityTrade has evolved the way the world conducts import and export trade. By seamlessly connecting buyer and suppliers via our online marketplace, we make high quality, compliant, socially and environmentally sustainable suppliers and manufacturers more economical and accessible to buyers that would otherwise invest a lot of resources when sourcing products. The QualityTrade B2B marketplace combines an optimised e-commerce trading platform, global supplier directory and a unique merit-based ranking system to seamlessly allow manufacturers/suppliers list their full range of products so that they can quickly and efficiently be found by buyers. Buyers can use the on-site search or popular search engines to quickly and easily find the products they want to source, and it is very simple to browse similar categories to add more products to their range. The proprietary merit-based ranking system enables all businesses – suppliers or buyers – to trade with confidence and assurance on QualityTrade. A QualityTrade Score is given to all suppliers based on 'Compliance', 'Historical Performance' and 'Operational Capability'. Suppliers are rewarded with a good score if they are transparent and can demonstrate strong credentials and a good track record. The QualityTrade Score is unbiased because it must be earned and cannot be bought. Only the best suppliers receive the best reputation and rankings. This is how QualityTrade reduces risk and provides buyers and suppliers with a safe, reliable and efficient marketplace to transact.Search QualityTrade now to compare suppliers on price, quality and logistics. We have over 20,000+ ISO certified suppliers with facilities across China, USA, India, Australia, Vietnam, Germany, Bangladesh, South Korea, Japan, UK, EU and more. This will be added to Entrepreneurial Resources Subject Tracer™. This will be added to Business Intelligence Resources Subject Tracer™. This will be added to International Trade Resources Subject Tracer™.