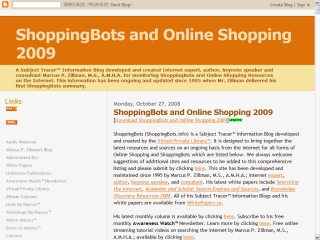 ShoppingBots and Online Shopping 2009
http://www.ShoppingBots.info/
This is a comprehensive list of ShoppingBots and online shopping resources including discount coupons that is taken from the constantly updated ShoppingBots Subject Tracer™ Information Blog created and maintained by Marcus P. Zillman, M.S., A.M.H.A.. The original ShoppingBot summary was created and placed online in 1995 and has continued for every year since then! It is now a freely available 30 page .pdf document (924KB) and this 2009 version was created on October 27, 2008. Enjoy this list and remember to "Shop with Your Bot Until You Drop" …..