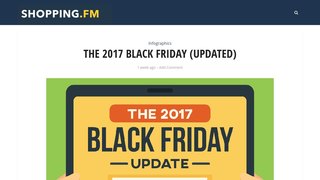 Thanksgiving Shopping Season: 2017 Predictions Based on Last Year's Stats
https://love.shopping.fm/the-2017-black-friday-updated/
As the annual holiday shopping season draws nearer and we brace for the bombardment of campaigns from around the Internet, we prepare anxiously for what is expected to be a record-breaking year. Black Friday & Cyber Monday are staples in American culture and with less than a month to go, the countdown is on. According to data, 2016 was a huge year for retailers online, with consumers spending billions per day, over the thanksgiving weekend, on everything from vacations to consumer electronics. 2017 is expected to continue this modern cultural marvel, with bigger sales and more shoppers than ever. For a full report on 2016 statistics and the projections for 2017's shopping weekend extravaganza check out the above market data from LoveShopping. This will be added to ShoppingBots and Online Shopping 2018.