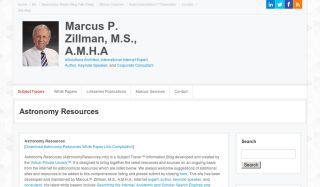 Updated> Astronomy Resources White Paper Link Dataset Compilation
http://www.AstronomyResources.info/
The above is the associated white paper link dataset compilation of the Astronomy Resources Subject Tracer™ Information Blog by Marcus P. Zillman, M.S., A.M.H.A. It is a 28 page .pdf document 242KB. [Updated on August 6, 2015] Other white papers are available by clicking here.