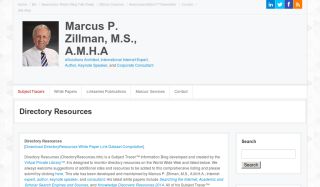 Updated> Directory Resources On the Internet
http://www.DirectoryResources.info/
The above is a white paper link dataset compilation of the Directory Resources Subject Tracer™ Information Blog by Internet Expert Marcus P. Zillman, M.S., A.M.H.A. This Directory of Directories covers all the competent and well maintained directories available from the Internet and makes for an excellent alternative search resource! It is now a 33 page .pdf document 249KB. [Updated May 28, 2015] Other white papers are available by clicking here.