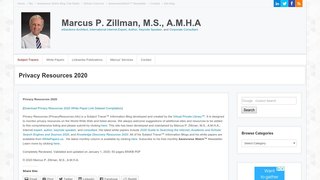 Updated> Privacy Resources 2020
http://www.PrivacyResources.info/
The white paper link dataset compilation of Privacy Resources 2019 Subject Tracer™ by Marcus P. Zillman, M.S., A.M.H.A. is now a 53 page .pdf document 870KB. Privacy Resources and Sites on the Internet is a comprehensive listing of privacy resources currently available on the Internet. These include associations, indexes, search engines as well as individual websites and sources that supply the latest technology and information about privacy and how it relates to you and the Internet. This is a MUST reference for today's New Economy where privacy and security have become major issues!! Keep your privacy and security with this excellent Subject Tracer™. This white paper (.pdf) has been completely updated including all links validated and new links added as of June 30, 2020.

©2020 Marcus P. Zillman, M.S., A.M.H.A.