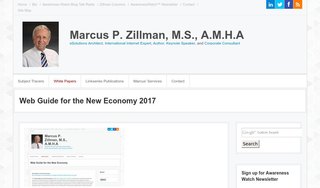 Updated> Web Guide for the New Economy 2017
http://www.WebGuideNewEconomy.com/
The Web Guide for the New Economy 2017 by Marcus P. Zillman, M.S., A.M.H.A. has just been updated and represents the latest world wide web resources for discovering new knowledge and understanding the latest happenings with regards to the New Economy. Understanding the required new economy analytics, resources and alerts will give you the necessary tools to maintain your current position, improve your position and discover the new knowledge required to be the leader in your profession in the New Economy! Download this freely available web guide today! [Updated with All Links Validated on May 11, 2017 50 pages 480KB] Additional white papers by Marcus P. Zillman are available by clicking here.