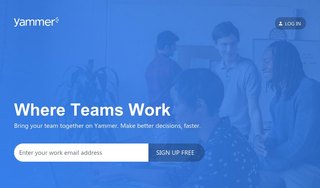 Yammer – Where Teams Work
https://www.yammer.com/
Organize all your team communication in one place with Yammer Groups. Create a single destination for your messages, files, and updates, where everyone has a view of what's going on without all the usual back-and-forth. Find what you need, right when you need it. Yammer seamlessly enables connections to people and information from across your organization that you never knew existed, making it easier to move your work forward. Spend less time crafting perfect emails, and more time doing. Conversations in Yammer make it easy to quickly share information on a topic, have active discussions around it, and agree on next steps. Benefits include: 1) Start a Group for a project, your team, or anything at all; 2) Share ideas, questions, and updates with your coworkers; 3) Public Groups for working in the open; Private Groups for sensitive ideas; 4) Safely collaborate with partners and customers with External Groups; 5) Upload files, photos, and videos and have conversations around them; and 6) Stay connected with Yammer apps for iOS, Android, and Windows Phone. This will be added to Entrepreneurial Resources Subject Tracer™. This will be added to the tools section of Research Resources Subject Tracer™.