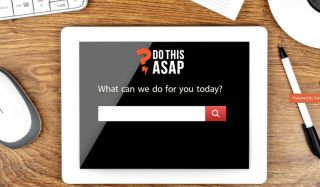 Do This ASAP – What Can They Do For You Today
http://dothisasap.com/
Upon submitting your question or task, your query is logged in our database where it is delegated to one of our guides and responded to. You will receive a response to your question or task in your email. You will know your question is answered the moment you receive an email response. Tasks they can complete include but are not limited to, creating logos, resizing images, converting file formats, faxing documents, performing research, and other quick tasks that take little time to do. If a task you want done is not listed ask about it and they will see if they can get it done for you. Features include: a) Search – Why search through links and pages when we can do the work for you, from finding phone #'s to important details on any topic, etc… while you're busy facebooking; b) Photoshop – They will create quick logos, edit images, trim, blur, add effects, .psd/jpg/gif conversions, low/high resolutions, dpi settings, etc… while you're busy youtubing; and c) Files – Convert documents, resize images, doc to pdf, faxing papers, samples of resumes, terms & conditions, leases, find stock photos, etc… while you're busy netflixing. This will be added to the tools section of Research Resources Subject Tracer™ Information Blog. This will be added to Internet Experts Subject Tracer™.