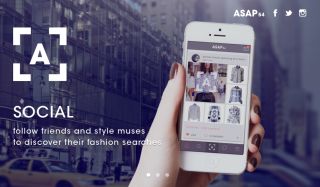 ASAP54 – Discover and Shop Fashion Online
http://www.asap54.com/
Welcome to ASAP54, the revolutionary new way to discover and shop fashion online. Want to know what your friends and style muses are searching and discovering in real time? You can personalize your own social feed by following other ASAPERS to tailor your daily fix of fashion inspiration. ASAP54 is the first ever app to combine a social fashion community with the latest visual recognition technology, to instantly connect you with that must-have item that you are hunting for. If you still can't find that object of your desire, the app also offers a unique team of in-house stylists, that at the tap of a button, will report back to you with a further five lust-worthy suggestions from high-end to high-street, all within 24 hours. This will be added to ShoppingBots and Online Shopping 2014 white paper.