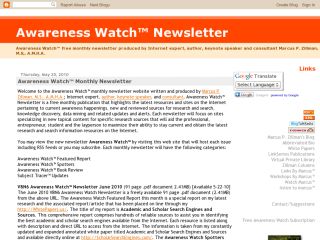 Awareness Watch Newsletter V11N9 September 2013
http://www.AwarenessWatch.com/
The September 2013 V11N9 Awareness Watch Newsletter is a freely available 72 page .pdf document (445KB) from the above URL. This month's featured report covers eReference Resources. eReference Resources on the Internet is a comprehensive listing of reference resources currently available on the Internet. These sources are taken from my Subject Tracer™ Information Blog titled Reference Resources and is constantly updated with Subject Tracer™ bots at the following URL: http://www.eReferenceResources.com/. These resources and sources will help you to discover the many pathways available to you through the Internet to find the latest reference resources, sources and sites. In today's New Digital World it has become one of the primary topics discussing methods and utilization of finding reference resources and information. eResources is one of the most important and popular resources for reference discovery available on the global Internet. The Awareness Watch Spotters cover many excellent and newly released annotated current awareness research sources and tools as well as the latest identified Internet happenings and resources including a number of neat and must-have tools! The Awareness Watch Article Review covers The Politics of Privacy and the Privacy of Politics: Parties, Elections and Voter Surveillance in Western Democracies by Colin Bennett.