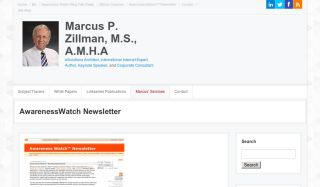 Awareness Watch Newsletter V12N10 October 2014
http://AwarenessWatch.VirtualPrivateLibrary.net/V12N10.pdf
Awareness Watch™ Newsletter Blog and Archives
http://www.AwarenessWatch.com/
The October 2014 V12N10 Awareness Watch Newsletter is a freely available 55 page .pdf document (416KB) from the above URL. This month's featured report covers Directory Resources that are constantly monitored by my Subject Tracer™ Information Bots (STIB) from both the world wide web and the deep web. Included are single subject directories as well as multi-subject directories. This resource has been branded as the Directory of Directories by the academic, research and business communities. These have also been called subject guides, subject tracers, path finders, and indexes. The single subject directories are broken down into the following categories: 1) Academic/Education, 2) Economics/Business, 3) Government and Statistics, 4) Humanities, 5) Information and Information Science, 6) Law, 7) Medicine, 8) News, 9) Science and Engineering, and 10) Social Sciences. These resources are a true research and discovery aid in finding both existing and new topical information and combined with the appropriate search/discovery engines give you the best results available from the Internet! The Awareness Watch Spotters cover many excellent and newly released annotated current awareness research sources and tools as well as the latest identified Internet happenings and resources including a number of neat and must-have tools! The Awareness Watch Article Review covers Putting Open Science Into Practice: A Social Dilemma?byKaja Scheliga, Sascha Friesike.
Subscribe to the monthly free Awareness Watch Newsletter by clicking here.