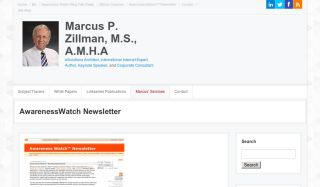 Awareness Watch Newsletter V12N11 November 2014
http://AwarenessWatch.VirtualPrivateLibrary.net/V12N11.pdf
Awareness Watch™ Newsletter Blog and Archives
http://www.AwarenessWatch.com/
The November 2014 V12N11 Awareness Watch Newsletter is a freely available 57 page .pdf document (430KB) from the above URL. This month's featured report covers ShoppingBots and Online Shopping Resources 2015 and is a comprehensive listing of shoppingbot, online shopping, coupon, discount codes and deal resources and sites on the Internet. This is the 19th annual listing of this directory that has been produced and published by Internet Expert and Guru Marcus P. Zillman, M.S., A.M.H.A. since 1996. These resources have dynamically improved over the last 19 years and now offer you a method to find and enjoy all the latest resources for virtual shopping on the Internet. It covers both the shoppingbots (search engines for shopping) and coupon/discount code/deal sites so you may "Shop with Your Bot Until You Drop". The site is always updated and is available at the following URL:   http://www.ShoppingBots.info/. The Awareness Watch Spotters cover many excellent and newly released annotated current awareness research sources and tools as well as the latest identified Internet happenings and resources including a number of neat and must-have tools! The Awareness Watch Article Review covers Pushback: Expressions of Resistance to the "Evertime" of Constant Online ConnectivitybyStacey L Morrison, Ricardo Gomez.
Subscribe to the monthly free Awareness Watch Newsletter by clicking here.