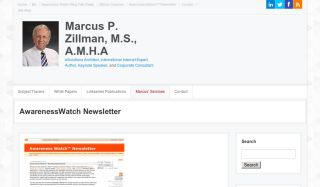 Awareness Watch Newsletter V12N6 June 2014
http://AwarenessWatch.VirtualPrivateLibrary.net/V12N6.pdf
Awareness Watch™ Newsletter Blog and Archives
http://www.AwarenessWatch.com/
The June 2014 V12N6 Awareness Watch Newsletter is a freely available 65 page .pdf document (444KB) from the above URL. This month's featured report covers the following Deep Web Research and Discovery Resources 2014 and covers the following sections: a) Articles, Papers, Forums, Audios and Videos; b) Cross Database Articles; c) Cross Database Search Services; d) Cross Database Search Tools; e) Peer to Peer, File Sharing, Grid/Matrix Search Engines; f) Presentations; g) Resources – Deep Web Research; h) Resources – Semantic Web Research; i) Bot and Intelligent Agent Research Resources and Sites; and j) Subject Tracer Information Blogs. This report and guide is designed to give you the resources you need to better understand the history of the deep web research, as well as various key resources that allow you to search through the currently available web to find those strategic sources of information nuggets only found by understanding how to search the "deep web". This report is constantly updated and available directly from the following: http://DeepWeb.us/. The Awareness Watch Spotters cover many excellent and newly released annotated current awareness research sources and tools as well as the latest identified Internet happenings and resources including a number of neat and must-have tools! The Awareness Watch Article Review covers Social dynamics of Twitter usage in London, Paris, and New York Cityby Muhammad Adnan, Paul A. Longley, Shariq M. Khan.
Subscribe to the monthly free Awareness Watch Newsletter by clicking here.