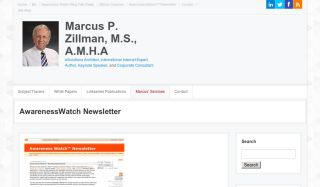 Awareness Watch Newsletter V14N11 November 2016
http://AwarenessWatch.VirtualPrivateLibrary.net/V14N11.pdf
Awareness Watch™ Newsletter Blog and Archives
http://www.AwarenessWatch.com/
The November 2016 V14N11 Awareness Watch Newsletter is a freely available 59 pages .pdf document (502KB) from the above URL.
This month's featured report covers two areas: Finding People Resources and Sites 2017 and Finding Experts By Using the Internet 2017. These sites, resources and tools bring together all the latest information on each of the subjects from the Internet. These resources will make an excellent bookmark for online finding people and finding experts and to develop a critical path and network that will guide you through all the latest happenings in these areas! These resources will also aid you in the further development of your research and investigation for academic, scholarly, entrepreneurial and personal utilization!! Resources for this report were taken from my following Subject Tracers™: http://www.FindingPeople.info/ and http://www.FindingExperts.info/. The Awareness Watch Spotters cover many excellent and newly released annotated current awareness research sources and tools as well as the latest identified Internet happenings and resources including a number of neat and must-have tools! The Awareness Watch Article Review covers Economies of the Internet by Kylie Jarrett, D. E. Wittkower.
Subscribe to the monthly free Awareness Watch Newsletter by clicking here.