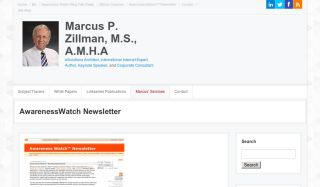 Awareness Watch Newsletter V14N6 June 2016
http://AwarenessWatch.VirtualPrivateLibrary.net/V14N6.pdf
Awareness Watch™ Newsletter Blog and Archives
http://www.AwarenessWatch.com/
The June 2016 V14N6 Awareness Watch Newsletter is a freely available 71 page .pdf document (487KB) from the above URL. This month's featured report covers Deep Web Research and Discovery Resources 2016 and represents the latest World Wide Web resources for discovering new knowledge and understanding the latest happenings with regards to the deep web. The world is rapidly changing as transparency, big data and the ability to access data from new, now accessible deep web directories becomes a reality! These deep web resources are constantly updated by Subject Tracer™ Information Bots and the latest deep web resources are available from the following URL: http://DeepWeb.us/. This is one of the fastest growing and changing areas for personal and business use and these deep web resources will help to keep you current and up to date. These resources will also help you to discover the many pathways available to you through the Internet to find the latest online deep web resources and sites. The Awareness Watch Spotters cover many excellent and newly released annotated current awareness research sources and tools as well as the latest identified Internet happenings and resources including a number of neat and must-have tools! The Awareness Watch Article Review covers A Scholarly Divide: Social Media, Big Data, and Unattainable Scholarship by Asta Zelenkauskaite and Erik P. Bucy.