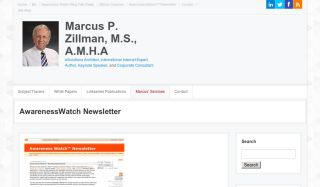 Awareness Watch Newsletter V15N2 February 2017
http://AwarenessWatch.VirtualPrivateLibrary.net/V15N2.pdf
Awareness Watch™ Newsletter Blog and Archives
http://www.AwarenessWatch.com/
The February 2017 V15N2 Awareness Watch Newsletter is a freely available 58 page .pdf document (479KB) from the above URL. This month's featured report covers Healthcare Bots and Subject Directories 2017. This white paper link compilation is designed to give you the latest resources available to find selected and niched information in the healthcare field for healthcare research both professional and personal. It is divided into two categories: a) Search Engines and Selected Bots, and b) Directories, Subject Trees and Subject Tracers. These resources allow you to begin your research using the latest sources that are available on the Internet. Using both bots and subject directories to initialize your healthcare research allows one to create a broad spectrum approach to the information available. [http://www.HealthcareBots.info/] These resources and sources will help you to discover the many pathways available to you through the Internet to find the latest healthcare resources and related sites. The Awareness Watch Spotters cover many excellent and newly released annotated current awareness research sources and tools as well as the latest identified Internet happenings and resources including a number of neat and must-have tools! The Awareness Watch Article Review covers Studying the Materiality of Media Archives in the Age of Digitization: Forensics, Infrastructures and Ecologies by Zack Lischer-Katz.