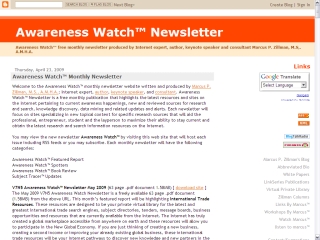 Awareness Watch Newsletter V7N5 May 2009
http://AwarenessWatch.VirtualPrivateLibrary.net/V7N5.pdf
Awareness Watch™ Newsletter Blog and Archives
http://www.AwarenessWatch.com/
The May 2009 V7N5 Awareness Watch Newsletter is a freely available 63 page .pdf document (1.58MB) from the above URL. This month's featured report will be highlighting International Trade Resources. These resources are designed to be your private virtual library for the latest and greatest international trade search engines, subject directories, tenders, message boards, business opportunities and resources that are currently available from the Internet. The Internet has truly created a global marketplace accessible from anywhere on earth and these resources will allow you to participate in the New Global Economy. If you are just thinking of creating a new business, creating a second income or improving your already existing global business, these international trade resources will be your Internet pathways to discover new knowledge and new partners in the area of international trade! The Awareness Watch Spotters cover many excellent and newly released annotated current awareness research sources and tools as well as the latest identified Internet happenings and resources including a number of neat and must-have tools! The Awareness Watch Article Review covers Beyond Google and Evil: How Policy Makers, Journalists and Consumers Should Talk Differently About Google and Privacy by Chris Jay Hoofnagle.

©2009 Marcus P. Zillman, M.S., A.M.H.A.