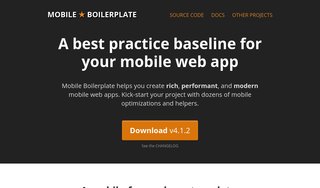 Best Practice Baseline For Your Mobile Web App
https://html5boilerplate.com/mobile/
Mobile Boilerplate helps you create rich, performant, and modern mobile web apps. Kick-start your project with dozens of mobile optimizations and helpers. Features include: a) Analytics, icons, and more – A lean, mobile-friendly HTML template; optimized Google Analytics snippet; placeholder touch-device icons; and several mobile-focused tools and helpers; b) Normalize.css and helpers – Includes Normalize.css v3 — a modern, HTML5-ready alternative to CSS resets — and further base styles, utilities, and media queries; c) jQuery 2 and Modernizr – Get the latest minified versions of jQuery 2 (a minimalist jQuery library for modern browsers) and the Modernizr feature detection library; and d) High performance – Apache settings to help you deliver excellent site performance. They independently maintain other server configs, and an ant build script. This will be added to Script Resources Subject Tracer™. This will be added to Entrepreneurial Resources Subject Tracer™.