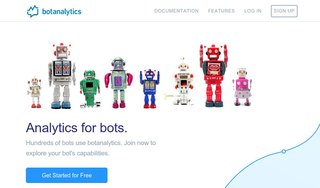 BotAnalytics – Analytics for Bots
http://botanalytics.co/
Make decisions with historical & real time conversation data. They combine real time conversations with historical ones to help answer the toughest questions about engaged, churnable and retained conversations. All-In-One webhook makes integration easy for anyone. Rather than force you to use sdk, they provide a simple but extensive webhook for integration. Features include: a) Find Conversation's Engagement. See the interactions and tipping points between your bot and user; b) Explore Bottlenecks of Conversation. Dive deep to the conversation steps to find where your bot tires out; c) Best Re-engagement Times. Find out your users' best re-engagement times and reach them out; d) Rich Visualization. Discover correlations of your data with wide range of graphs; e) Discover User Behavior. Enhance your services with learning user behaviors; f) Deeper Insights. Explore extensive filtering for your retained, churned or highly engaged users. This will be added to Bot Research Subject Tracer™.