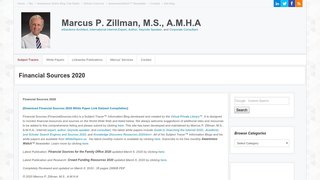 Crowd Funding Resources 2020
http://whitepapers.virtualprivatelibrary.net/Crowd_Funding_Resources_2020.pdf
http://www.CrowdFundingResources.info/
The above white paper link dataset compilation of the Crowd Funding Resources 2020 Subject Tracer™ by Marcus P. Zillman, M.S., A.M.H.A. is a freely available 19 page .pdf document (523KB) listing the latest and greatest online resources and sites for crowd funding! Complete Update Including All Links Validated on . Other white papers are available by clicking here.