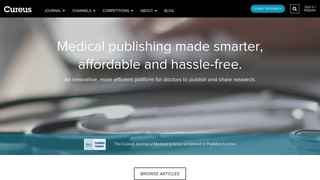 Cureus – Medical Publishing Made Smarter, Affordable and Hassle-Free
https://www.cureus.com/
Cureus is the medical journal for a new generation of doctors and patients. Based in San Francisco, California, Cureus leverages the power of an online, crowd-sourced community platform to promote medical research with tools to better serve and highlight physicians and researchers around the world. The result? Better research, faster publication and easier access for everyone. Publishing your work has never been easier – it's 100% free and you retain the copyright. What's more, the Cureus platform is designed to provide a place for physicians to build a digital CV anchored with their posters and articles. Today, generating an audience for your article depends almost entirely on a journal's circulation, limiting exposure to only a few thousand physicians in your field. Medicine is increasingly cross-disciplinary, as physicians read thought-provoking articles from specialties outside their own. Meanwhile, patients have virtually no access to this important content. Cureus provides everyone with access to thought-leading content. No paywalls. No red tape. The Cureus Journal of Medical Science is a fully open access journal, which means that all articles are available on the internet to all users immediately upon publication. Cureus publishes all accepted articles under a CC-BY license. This will be added to Healthcare Resources Subject Tracer™. This will be added to Business Intelligence Resources Subject Tracer™. This will be added to Entrepreneurial Resources Subject Tracer™. This will be added to the tools section of Research Resources Subject Tracer™.