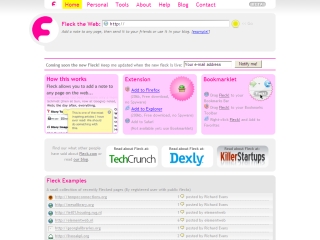 Fleck – Web Page Interaction and Annotation
http://www.fleck.com/
Fleck allows you to interact with pages on the web just as if it were pages in a magazine. You can save your annotated page for yourself, send it to friends or colleagues or use it in your blog. You can start using Fleck right now. It's free and what's best: you don't have to install anything on your computer. This has been added to the tools section of Research Resources Subject Tracer™ Information Blog.