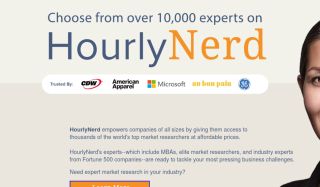 HourlyNerd – Choose From Over 10,000 Experts
http://snipurl.com/29t6o2s
HourlyNerd empowers companies of all sizes by giving them access to thousands of the world's top market researchers at affordable prices. HourlyNerd's experts–which include MBAs, elite market researchers, and industry experts from Fortune 500 companies–are ready to tackle your most pressing business challenges. Need expert market research in your industry? This will be added to Internet Experts Subject Tracer™.