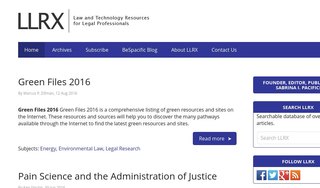 LLRX> Green Files 2016 by Marcus P. Zillman
http://www.llrx.com/2016/08/green-files-2016/
Green Files 2016 Green Files 2016 is a comprehensive listing of green resources and sites on the Internet. These focused actionable resources will assist researchers to discover many subject and topic specific sources published and maintained by sectors and groups including: private, public, NGO, and advocacy communities. The PDF and site available by clicking here.