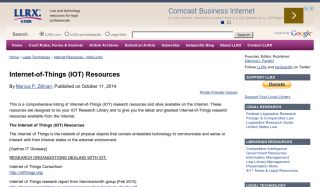 LLRX> Internet-of-Things (IOT) Resources
http://www.llrx.com/features/internetofthingsresources.htm
This is a comprehensive listing of Internet-of-Things (IOT) research resources and sites available on the Internet. Marcus P. Zillman developed this guide with the goal of highlighting the most current and actionable research resources available on this topic. Published via LLRX in their October 2014 Features and Columns section.
Direct URL: http://www.Internet-of-Things.ws/