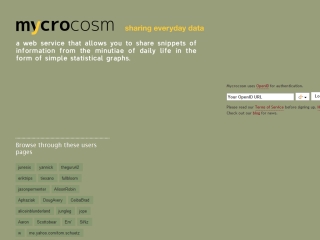 Mycrocosm – Sharing Everyday Data
http://mycro.media.mit.edu/
Mycrocosm is a web site that makes it possible for people to use statistical graphs and other visual language tools for expressive social communication. In particular it provides an alternative to purely text based micro-blogging software (such as Twitter). They encourage their users to creatively use the visual forms we have provided to express whatever they may want about themselves or the world they are living in. This can range from keeping track of daily activities (What are you doing? — but visually) to expressing opinions, making jokes or any other form of social interaction. As a a research project of the Sociable Media Group at the MIT Media Lab we are interested in what a tool such as this helps you express that is different from what or how one might communicate in a purely text based medium. This has been added to the tools section of Research Resources Subject Tracer™ Information Blog.