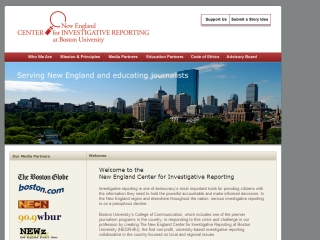 New England Center for Investigative Reporting
http://www.necir-bu.org/
Investigative reporting is one of democracy's most important tools for providing citizens with the information they need to hold the powerful accountable and make informed decisions. In the New England region and elsewhere throughout the nation, serious investigative reporting is on a precipitous decline. Boston University's College of Communication, which includes one of the premier journalism programs in the country, is responding to this crisis and challenge in our profession by creating The New England Center for Investigative Reporting at Boston University (NECIR-BU), the first non-profit, university-based investigative reporting collaborative in the country focused on local and regional issues. The primary goals of NECIR-BU are: to produce high-quality, high-impact investigative reports that will be published and aired by multiple media partners on multiple platforms, to train the next generation of investigative reporters including students at Boston University and inner-city high schools, to serve as a platform for experimenting with how to effectively deliver long-form investigative content to a digital audience and to be a model for non-profit, multi-media, investigative journalism that could be duplicated nationwide. Initially, NECIR-BU's reporting will reach millions of people in New England through reports appearing in print, on the web, radio and TV. This will be accomplished through partnerships already in place with various news outlets including boston.com, The Boston Globe, New England Cable News, and WBUR (NPR). In addition, NECIR-BU is partnering with New England Ethnic News, a Web-based ethnic news service, to provide our reporting to various ethnic media outlets. In future years, relationships beyond the metro area will allow us to reach an even larger audience. This has been added to Business Intelligence Resources Subject Tracer™ Information Blog.