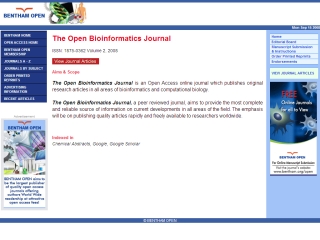 Open Bioinformatics Journal
http://bentham.org/open/tobioij/
The Open Bioinformatics Journal is an Open Access online journal which publishes original research articles in all areas of bioinformatics and computational biology. The Open Bioinformatics Journal, a peer reviewed journal, aims to provide the most complete and reliable source of information on current developments in all areas of the field. The emphasis will be on publishing quality articles rapidly and freely available to researchers worldwide. This has been added to Biological Informatics Subject Tracer™ Information Blog.