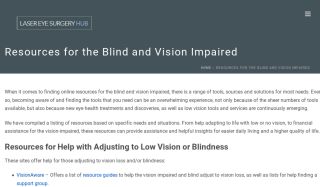 Resources for the Blind and Vision Impaired
http://www.lasereyesurgeryhub.co.uk/resources-blind-vision-impaired/
When it comes to finding online resources for the blind and vision impaired, there is a range of tools, sources and solutions for most needs. Even so, becoming aware of and finding the tools that you need can be an overwhelming experience, not only because of the sheer numbers of tools available, but also because new eye health treatments and discoveries, as well as low vision tools and services are continuously emerging. They have compiled a listing of resources based on specific needs and situations. From help adapting to life with low or no vision, to financial assistance for the vision-impaired, these resources can provide assistance and helpful insights for easier daily living and a higher quality of life. This will be added to Accessibility Resources Subject Tracer™.